To View Images, Click Here
For more information, contact Executive Director Timothy Smith at tim@timroff.com or call 216-926-4806
Community Greenhouse Partners is proud to announce that we have reached an agreement with the Cleveland Catholic Diocese to purchase a vacant sacred space and are about to embark on a $4.6 Million Capital Campaign in order to create a local-food centric business development district centered around an 18,000 sq.ft. greenhouse.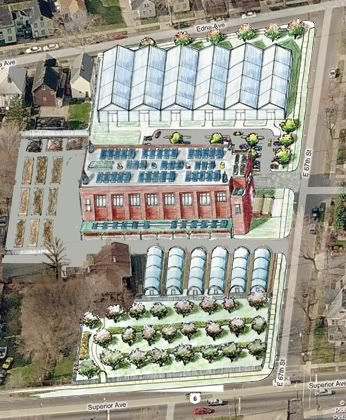 Community Greenhouse Partners has agreed to take possession of a 2.83-acre space on Cleveland's East Side. The site, a former Catholic church and school, will require an initial investment of $1.3 Million for exterior renovation and interior redesign. Externally, we plan to immediately build 5 hoop houses, at a cost of $20,000. Once completed, we will use the hoops to prove our concept and show it as an example for additional fundraising. In year two, we will need an additional $800,000 to build and equip the greenhouse proper, plus an additional $1.5 million to finish development of the church building and acquire necessary equipment and support systems. Such equipment includes a Bobcat utility vehicle, a refrigerated panel van for deliveries, an additional truck for collecting compostable materials, fish tank equipment and plumbing, education supplies for our classrooms, cash registers and coolers for the store, and computers, phones and office supplies for our office.
The mission of Community Greenhouse Partners is to improve the quality of life of those around us by selling locally-grown vegetables at low cost to urban families, employ local residents and teach sustainability and earth science to young people.
We create products that help satisfy local needs, such as low-cost quality vegetables, protein in the form of fish, natural fertilizer for local gardens through our composting, and non-polluting energy through our renewable energy systems.
What We Believe:
In order to meet this mission we will develop programs that combine earth, food, employment, self-worth, education and opportunity into a replicable sustainable system that will benefit both the individual as well as the community. These programs will be based on the following values:
• A valuable, sustainable community is one that integrates our human capital into a balanced ecosystem.
• Changes to the environment must be considered in context to their impact on the next seven generations.
• Changing the dynamics of a community begins with opportunity and creating the tools to achieve it.
• A healthy community is one that provides for the whole person.
• Respect for the individual, community and the environment must be integrated into all our actions.
• Our actions and accomplishments will be measured by our impact on the individual, the community and the environment.
Community Greenhouse Partners is exploring a new approach to urban farming, food production, and job training in Cleveland. It addresses people in almost every neighborhood in Cleveland, and many in the inner ring suburbs. It also has some potential to bring different racial groups and class groups into more frequent, constructive contact.
In addition, we plan to generate the following effects in the community:
• Healthy Food: We are distributing nutritious, freshly picked food to our low-income neighbors. A proper diet is critical for mental and physical health, so our products will have a direct, positive impact on our community.
• Building a new industry: $6.7 Billion was spent in northeast Ohio on food in 2008, and only $200 Million went to local farmers and food producers. In order to capture a greater share of that market, we need to be producing food year-round, in a way that's affordable and readily available. CGP will be a major player in an effort to get the local economy to buy 20% of their annual food budget locally - an effort begun by E4S.org and localfoodcleveland.org.
• Supporting entrepreneurship: CGP will spearhead this effort by sharing its business model with other entrepreneurs, training a new employee pool, and assisting other area growers to get under glass and increase their yields. CGP could also serve a fiduciary and training / resource agent for micro-enterprise programs based around local foods and vacant lot reutilization. We envision that one of our roles would be to create a "door" to the local food distribution system.
Our Timeline:
11/01/2010: Acquire Land
11/02/2010: Begin Composting
11/15/2010: Build Hoop Houses
11/22/2010: Plants in the Ground
11/30/2010: Begin Phase One Building Renovations
12/22/2010: First Harvest
01/03/2011: Complete design work and submit for review and permits
01/03/2011: Management team begins employment
02/28/2011: Complete interior renovation of office space
02/28/2011: Begin work on remaining renovations
02/28/2011: Begin Greenhouse Construction
06/20/2011: Hire remaining Greenhouse and Kitchen employees
06/20/2011: Fish tanks stocked, Aquaponics staff begins full time
07/05/2011: Greenhouse opens
07/05/2011: Store Opens
07/05/2011: Begin hiring remainder of staff
09/01/2011: Classes start
11/15/2011: Operation running at full capacity
Once we're at full capacity, our Greenhouse and Hoop House facilities will produce...
• Lettuce, Spinach, Arugula, Endive, Chard, Radicchio and other salad greens.
• Micro greens and Pea Sprouts
• Tilapia and Lake Perch
• Green Beans and Peas
• Multiple varieties of Tomatoes and Peppers
• Watercress and assorted Herbs
• Seasonal varieties including Field Greens, Zucchini and Yellow Squash, Onions, Bok Choy, Green Beans, Snap and Snow Peas, and much more.
In addition, the project will bring a number of other benefits to the neighborhood, including:
• Economic Development: We are bringing $3.4 Million in construction costs, $1 million in annual payroll and $2.5 million in annual sales to our future home. The project also employs the latest in green technology and sustainable practices, and could act as an engine for further growth in the area, while acting as a model for other cities to follow.
• Education: We will be teaching agriculture to local middle and high school students, offering a senior-level Vocational Education program in Agriculture. We also will offer job training for our workers, providing them with marketable skills.
• Attracting and retaining talent: Endeavors like this will require people with technical knowledge, business acumen and specific labor skills. Educational programs at nearby colleges and downsizing in the region can provide a pool of these people to support our effort. Conversely, adding this industry to Cleveland can help reshape Cleveland's image from an industrial rust belt to a Green City on a Blue Lake.
Our project has a three-pronged marketing approach, distributing our products through large-scale distribution networks like the Visiting Nurse Association and City Fresh, through our own neighborhood store and other independent groceries throughout Northeast Ohio, and at local restaurants carrying specially designed boutique products and prepared foods. Our experienced sales staff has already identified a number of clients that have committed to purchasing our products, and as our capacity grows, we will expand our outreach to other key clients throughout the region.
Nothing like this currently exists in Cleveland. All other urban agribusiness in Cleveland is ground-based, with late spring, summer and fall production only. We will be the first in the area to grow a full range of vegetables using organic methods year round. We will also be the first large-scale, high-yield, commercial grower within county limits. Other urban farms are small, employing 3-5 people, whereas we will employ five times as many. None of the other farming operations connect with area schools to give credit to students for learning practical applications of science.
Our revenue estimates are based on production volumes derived from yields using Growing Power's model and market prices in the Cleveland area. In future years we expect to derive revenue from sale of compost. Additionally, we expect to realize revenue from the following sources: education dollars from local school districts, tipping fees from companies delivering organic waste, sale of additional products including eggs, honey, and processed foods, rental of building space to other organizations, and rental of our kitchen facilities to area gardens and urban farms to allow creation of additional processed foods by partner organizations.
Our Capital and Startup costs are estimated to run nearly $5 Million, with expenses of $900 Thousand in new/Greenhouse construction, $2.5 Million in conversion costs for the existing building, and $1.5 million in labor and supplies for the first year.
We believe our project is an excellent fit for numerous city, state, and federal programs. While no one program would meet all of our capital requirements, we believe a sufficient number of programs exist to fund our project without having to go to the venture capital markets. We feel the project is eligible for grants from various sources as it clearly addresses the following priorities:
1. Reducing urban blight
2. Workforce training
3. Inner city employment
4. Education
5. Job creation
6. Sustainable Energy Production and Carbon Reduction
After the first six months of operations, the greenhouse will be able to fully fund its operations and expansions through internally generated funds.